Many will agree that taking care of your skin is crucial, as it is the base for makeup and the foundation of confidence. Facials and trips to the spa can become time-consuming, but it is more and more easy to achieve flawless and fresh skin nowadays thanks to the array of sheet masks on the market. If you are not sure where to start, here is a list of some of the best hydrating sheet masks there are!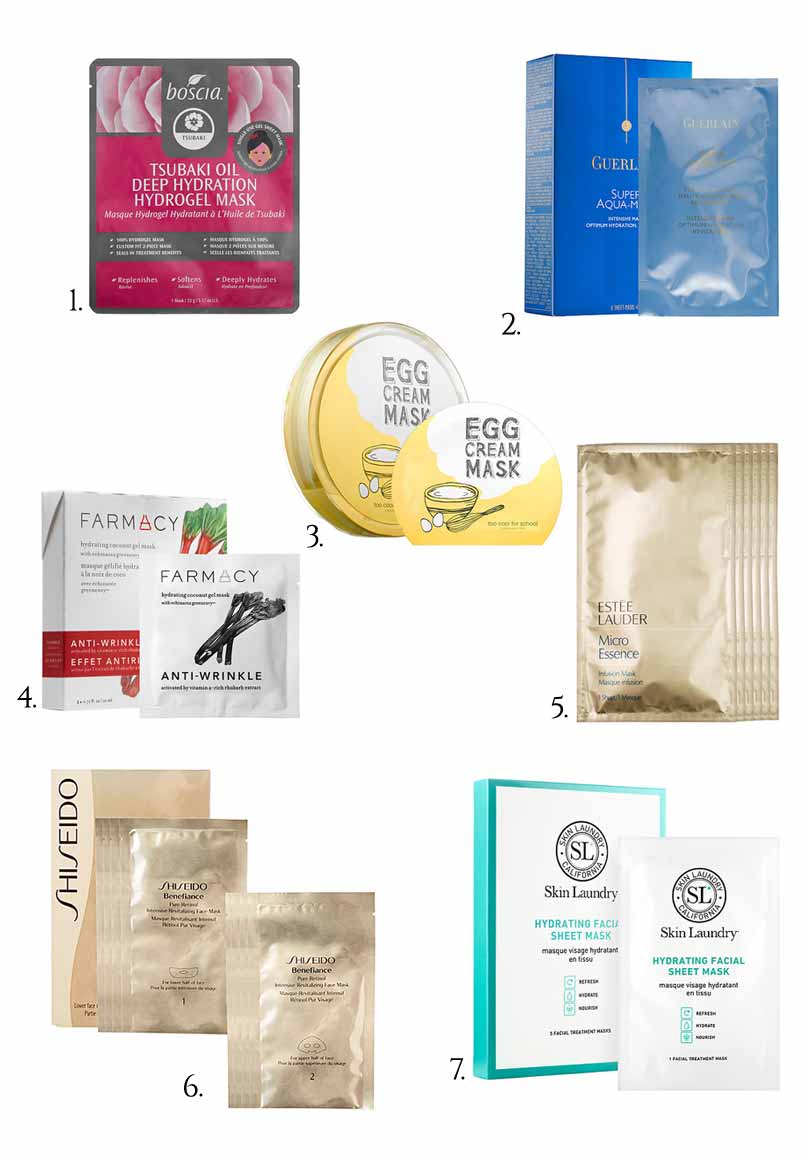 1. Boscia Tsubaki Oil Deep Hydration Hydrogel Mask
This mask is a perfect combination of vitamin E, serine and tsubaki oil, and aims to target dull and rough skin. Its gentle scent and two-piece design is soothing and will allow you to recreate your favorite facial in the comfort of your own home.
2. Guerlain Super Aqua-Mask Intensive Mask Optimum Hydration Revitalizer
The French cosmetics brand's hydrating masks are as luxurious as their lipsticks. The Super Aqua-Mask is perfect to smoothe and supple skin, and its antiaging benefits are fit for every skin type! For toner and firmer skin, definitely add this gem to your Sephora basket.
3. Too Cool For School Egg Cream Mask Hydration
Parabens, Sulfates and Phthalates free, this hydrating sheet mask targets dry skin, dark spots, dullness and even more. For glowy and hydrated skin, give this egg extracts drenched mask a try!
4. Farmacy Hydrating Coconut Gel Mask – Anti-Wrinkle (Rhubarb)
This coconut gel mask targets fine lines and wrinkles and gives the skin a youthful glow. The rhubarb extract emphasizes the skin's daily repair process and the natural ingredients help restore the skin naturally.
5. Estée Lauder Micro Essence Infusion Mask
A familiar name that has swooned women all over the world with their deep reds will now also make you fall in love with their sheet masks. For nourished and hydrated skin, pamper yourself with the Micro Essence Infusion Mask. You will notice the radiance right away.
6. Shiseido Benefiance Pure Retinol Intensive Revitalizing Face Mask
The Japanese cosmetics giant does not disappoint with their revitalizing face mask. What makes this product stand out is its shape, allowing it to concentrate on the specific part of the face that you wish to focus on, and encourages the skin's natural recovery. Perfect for moisturized and radiant skin!
7. Skin Laundry Hydrating Facial Sheet Mask
Renowned for their skincare services and rapidly growing globally, it only made sense for Skin Laundry to release their own products. Many swear by their hydrating face masks, and for good reasons! Made with watermelon fruit, lentil fruit and apple fruit extracts, this mask promises to refresh, hydrate and nourish your skin.