It's no secret that sartorial transitions and cosmetic cleaning render their own kind of celebration of spring and summer. While you can update your wardrobe and rework your beauty products to enter the warmer months, there's no better way to embrace summer with the perfect scent that brings the sunshine wherever you go. Whether you're the floral fanatic, or the glamor girl, we've got you covered with these curated summer scents.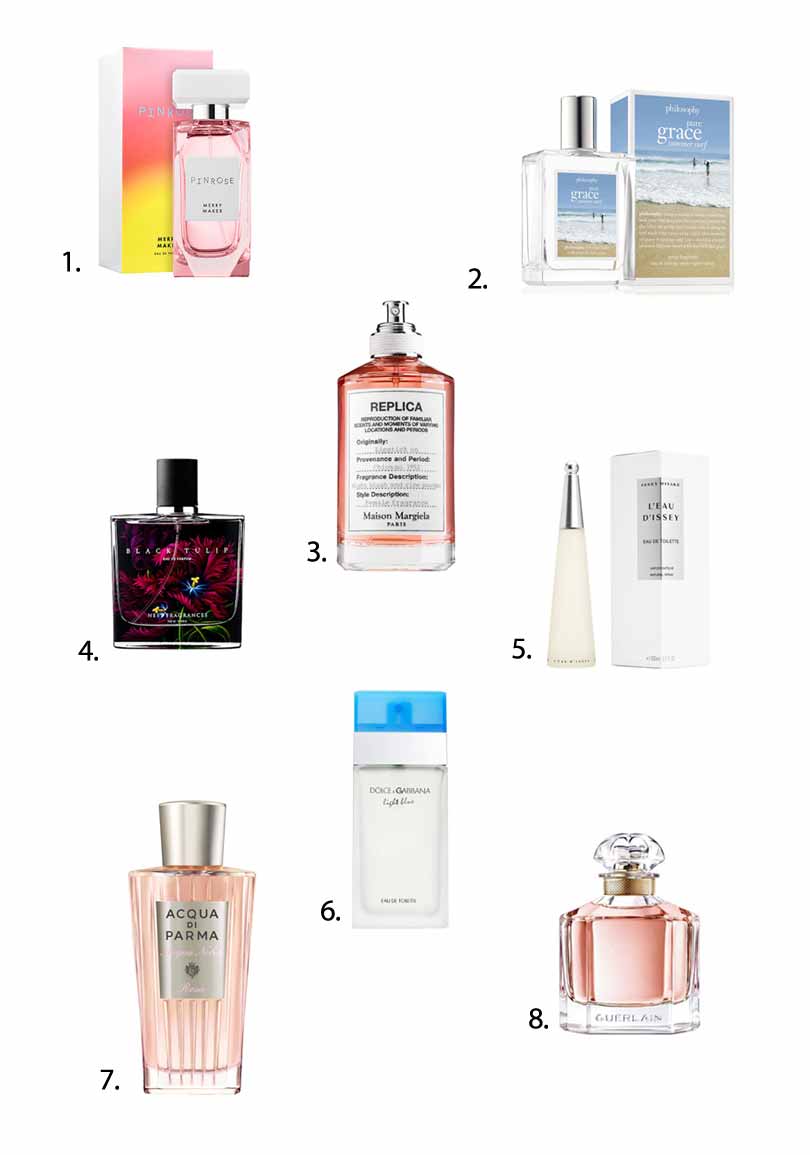 Floral Fiesta
Acqua Nobile Rosa (7) is truly a sensory garden promenade with its prominent centifolia Italian rose, Italian Bergamot, and freesia accord notes. A few spritz of this perfume will leave you feeling feminine, graceful, and pretty as a petal.
The scent of L'Eau d'Issey (5) is as sleek and sophisticated as its presentation. Precious woods and lotus undertones sparkle within the fragrance to amplify the warmth and charm that resides within the bottle.
Jeune & Jolie
For the girl next door, PINROSE Merry Maker's (1) nectarine, grapefruit and rose notes portray a certain joie de vivre that comes with being young and free. With a couple of citrus and woody sprays, you will not only feel the sunshine, but be the rays.
Fresh and sweet, Mon Guerlain (8) has its warm scents down to a science. Sweet floral accords underlined by a slightly spicy undernote is reminiscent of young curiosity and wild spontaneity. With a blend of lavender, jasmine, and vanilla, this fragrance is energy and beauty in a bottle.
Classic Clean
Florals and sea spray notes embody philosophy Pure Grace Summer (2) Surf's spirit of a warm sunny summer day. Inspired by smooth seaside breezes, crashing waves, and warm sunlight, Summer's Surf will surely remind you that it's summer wherever you step foot.
Sail into the deep blue sea with DOLCE&GABBANA Light Blue (6). Sicilian citron brings quintessential qualities of summer citruses as hints of jasmine and bamboo amplify the classic and clean character of femininity, all while notes of granny smith apple and white rose top the scent off with a hint of floral.
Glamour on the Go
MAISON MARGIELA 'REPLICA' Lipstick On (3), the perfect pamper pick me up for the woman who embraces her inner Marilyn Monroe, Audrey Hepburn, or simply herself. The scent, both powdery and oriental, is the quintessential fragrance that celebrates feminine beauty and power.
Its warm notes of black amber plum, patchouli, and ink pepper makes Nest Black Tulip (4) the perfect summer night out fragrance; seductive yet subtle, strikingly charming without being over bearing.