Although we should be celebrating mothers all year round, it is definitely lovely to have a special day dedicated to the special women in our lives. If you are looking for a gift for a great motherly figure in your life, whether it is your mom, your aunt, or your grandmother (or even a male motherly figure!), here is a list of 9 ideas that you might draw inspiration from!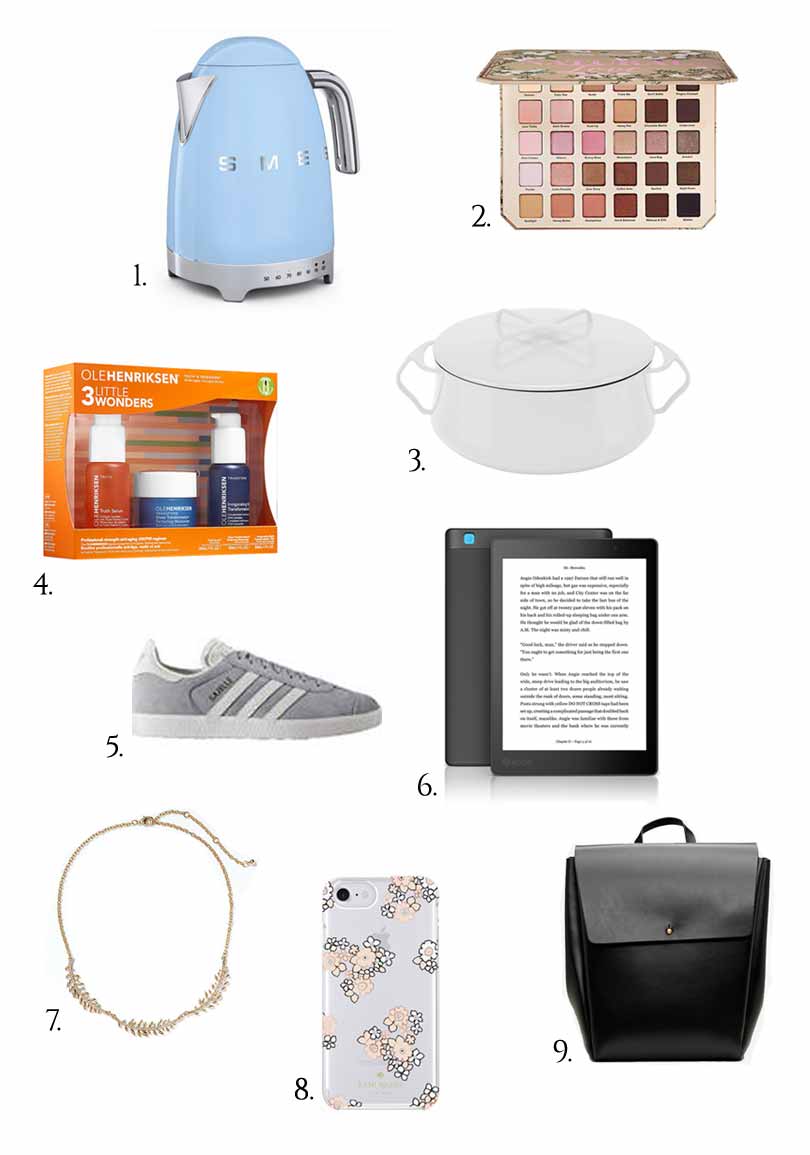 Smeg Variable Temperature Kettle – Pastel Blue
Perfect for late-night teas or early morning coffees, kettles are a must in every household. This one adds a touch of colour and the chrome handle is sleek and convenient. If blue isn't the colour for your mom's kitchen, there are many other choices to choose from! Add in a matching mug and your favourite tea and you have a stunning gift for Mother's Day.
Smeg Variable Temperature Kettle, $279.95 at Indigo.
Too Faced Natural Love Ultimate Neutral Eye Shadow Palette
Too Faced's newest eyeshadow palette addition is definitely one of their best releases. This 30-shade palette combines some of their best-selling shades from popular palettes, as well as newly added colours. The pink hues are a perfect pop of colour for the spring and summer time, and the neutral colours can be used all year round.
Too Faced Natural Love Ultimate Neutral Eye Shadow Palette, $69 at Sephora.
Kobenstyle 4 Quart Casserole – White
Food is often the foundation of many great memories families share, and you can be assured that cooking appliances — especially bakeware — will be put to good use. This luxurious and minimalistic casserole is versatile, easy-to-clean, and elegant. And you can be sure that the entire family will benefit from good times —and good food.
Kobenstyle 4 Quart Casserole, $139.97 at Sears.
Ole Henriksen 3 Little Wonders
This set was released recently but has already been getting a lot of great reviews, and for good reasons. The 3-step skincare routine aims at reducing dull and uneven skin and also has anti-aging benefits. The perfect deluxe sample formats will also allow whoever is lucky enough to receive this gift to test the brand out!
Ole Henriksen 3 Little Wonders, $86 at Sephora.
Adidas Gazelle
Once worn exclusively for sports, sneakers have now become fashion statements for men and women of every age. They are comfortable, chic (Athluxury, of course!), and so easy to wear. With so many styles on the market, going back to basics is the way to go. Adidas Gazelles are simple yet the suede material makes it stand out from the brands' other popular shoes. With so many colours to choose from, you are sure to find a pair of summer shoes for your mom!
Adidas Gazelle, $110 at Aritzia.
Kobo Aura One
Books are both my favourite gifts to give and to receive, because they are often so personal. If you are unsure which book to get your mother, an e-reader is definitely an idea for you! Millions of books can be accessed and Kobo readers are the perfect size to keep in handbags, or on nightstands, for quick reads before bed. If you want to it to be even more special, download a few books you like in advance, so it can be even more personalized!
Kobo Aura ONE, $249.99 at Indigo.
Banana Republic Gold Leaf Necklace
Jewelry is another great gift idea, especially the classic, timeless pieces that your mother can wear for years to come. If you are still unsure as to where to start looking — there are so many places and styles to choose from —, try to find a piece similar to one she wore on her wedding or to a piece that may be sentimental to her! Not only is it personal, but also shows that you put thought into the gift.
Gold Leaf Necklace from Banana Republic, available online.
Kate Spade New York Clear Case – Rose Gold Floral Burst
Kate Spade phone cases are luxurious and stunning, and always make a great gift — trust me! With so many designs to choose from, there is definitely one that will fit your mom's style. The rose gold floral print is a favourite of mine, and is perfect for Spring!
Kate Spade New York Clear Case, $54.95 at Indigo.
Auxiliary Bray Backpack
This chic piece is a great staple, both because of its conveniency and because of its versatility. It comes in two colours — a stunning dusty rose and a classic black — and its timelessness will allow the lucky recipient of this bag to wear it for years to come.
Auxiliary SAC A DOS DE BRAY, $325 at Aritzia.