I often get asked what my favourite beauty products are. It's hard to choose! I have tested so many products over the years, I forget a lot. However, I wanted to present my favorites at the moment, the one I am currently using as part of my skincare routine in order to keep the glow keep my skin hydrated. Here it is!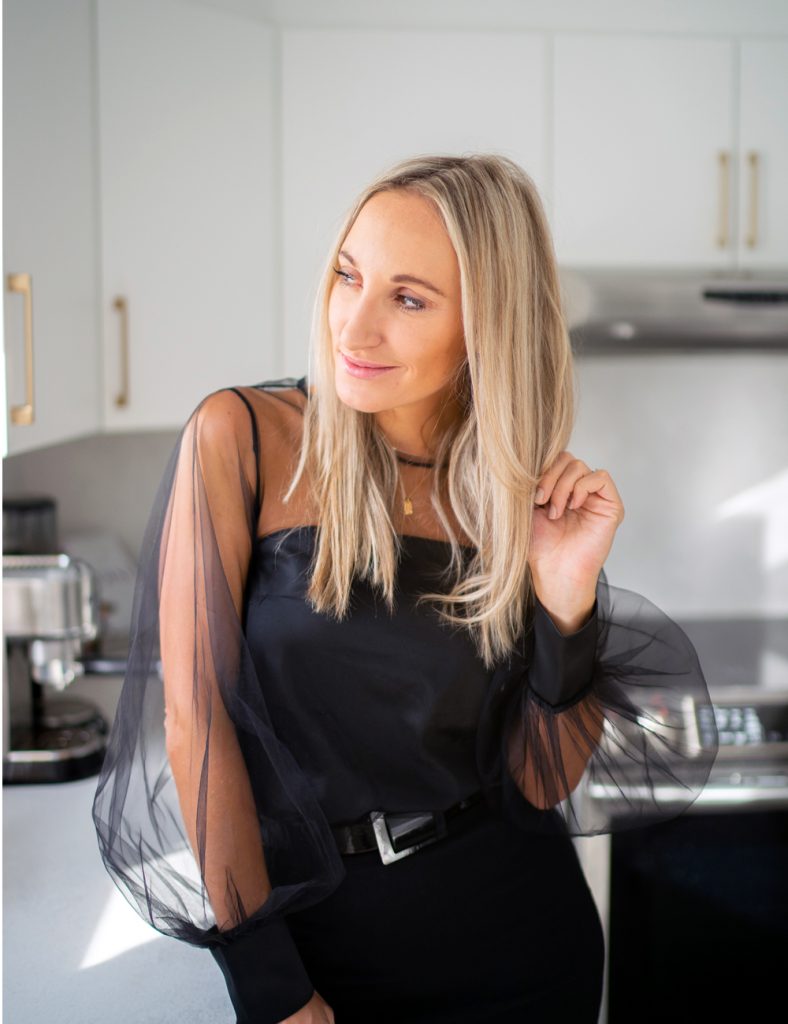 The first gesture
In the morning when I wake up, I use a face mist, it's almost automatic! It wakes up my skin and gives me a little boost at the same time. I like to apply a serum or a essence too and let it sit while I make myself a coffee.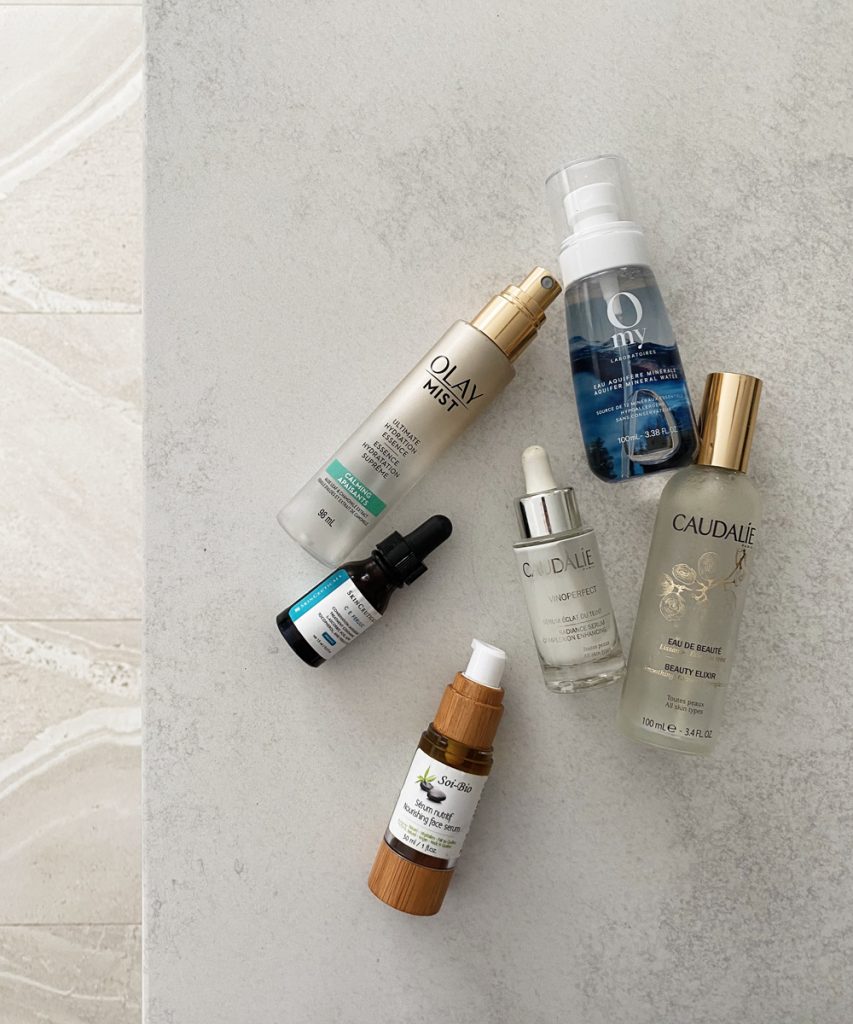 My suggestions:
Caudalie Beauty Elixir, $64
Olay's Ultimate Hydration Essence Mist, $12.99
Caudalie Vinoperfect Serum, $95
Skinceuticals C E Ferulic, $180
Omy Mineral Aquifer Water, $15.99
Soi-Bio Nutrient Serum, $75
Day cream
I usually apply a moisturizing product but nothing too rich, because my skin will not hold the makeup in place otherwise. I also recently adopted oils in the morning: it changed my life, especially during Winter! If I apply an oil, I let it sit for a few minutes before I put something else. Otherwise, I use a day cream, and I then continue with an SPF, whatever the weather is.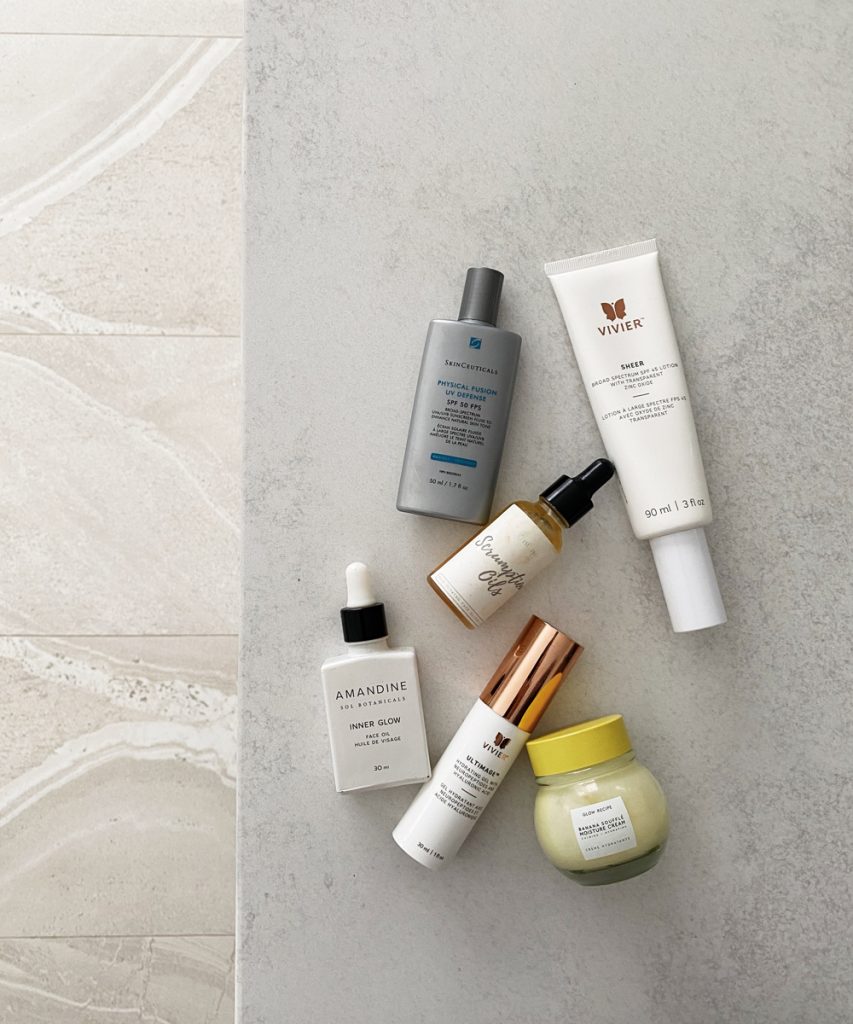 My suggestions:
Scrumptious Oils Face Oil, $27
Skinceuticals SPF Physical Defense Solar Care SPF 50, $49
Vivier SPF 45 Sunscreen Lotion, $64
Glow Recipe Banana Soufflé Day Cream, $50
Amandine Sol Botanicals Face Oil, $120
Vivier Hyaluronic Acid Moisturizing Gel, $85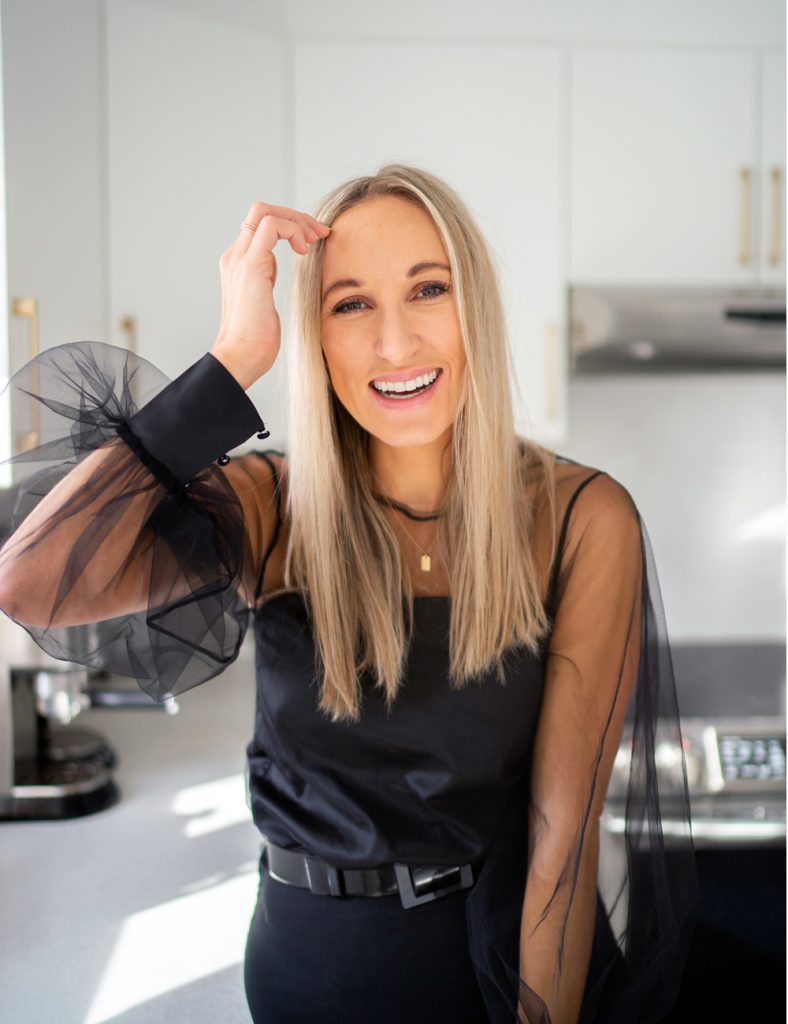 The cleansing step
You may be surprised to learn that I don't use make-up remover. I don't like oily and cream make-up removers, even if sometimes I test them for my work. I have been a fan of micellar waters for several years. I easily remove my eye and face make-up with a cotton pad soaked in micellar water, which is very gentle for my skin. Then I wash my face with a cleansing gel, and I'm done.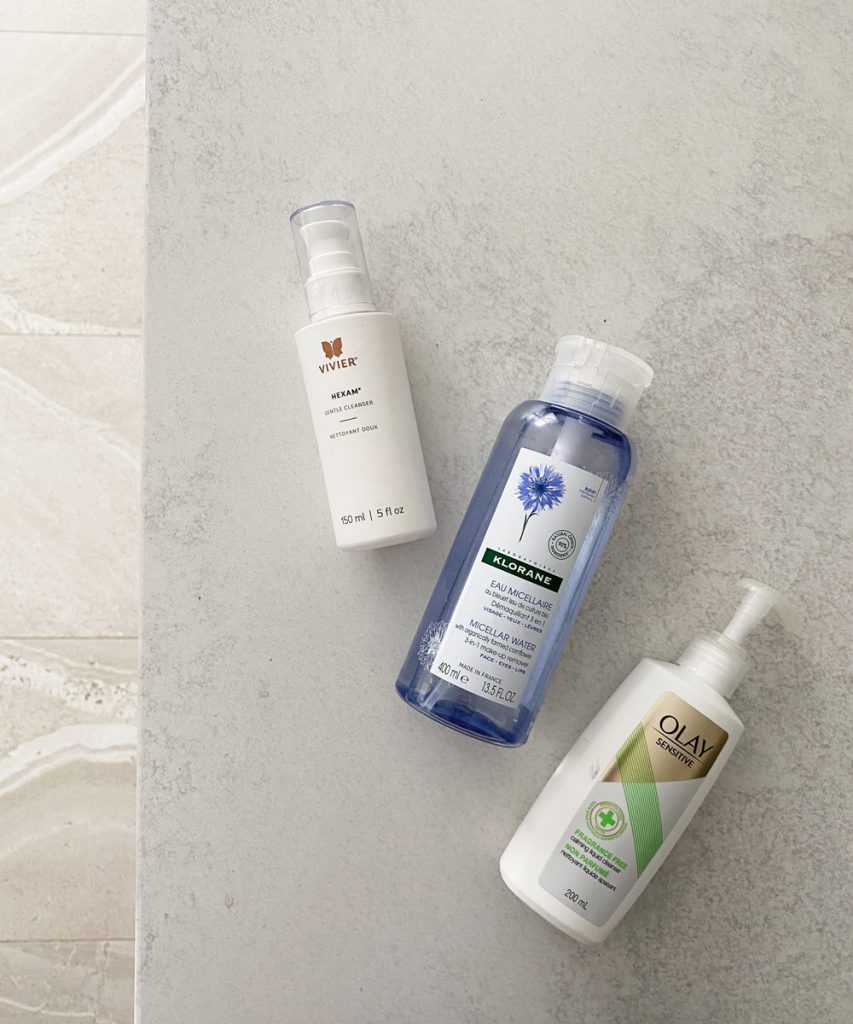 My suggestions: 
Olay Sensitive Liquid Cleanser, $12
Vivier Soft Cleanser, $47
Klorane Micellaire Water, $17
The eye care
This step is so important, never forget about it! I use my eye contour before applying my night cream. The best way to apply it is to put a little on one finger and pat lightly around the eye.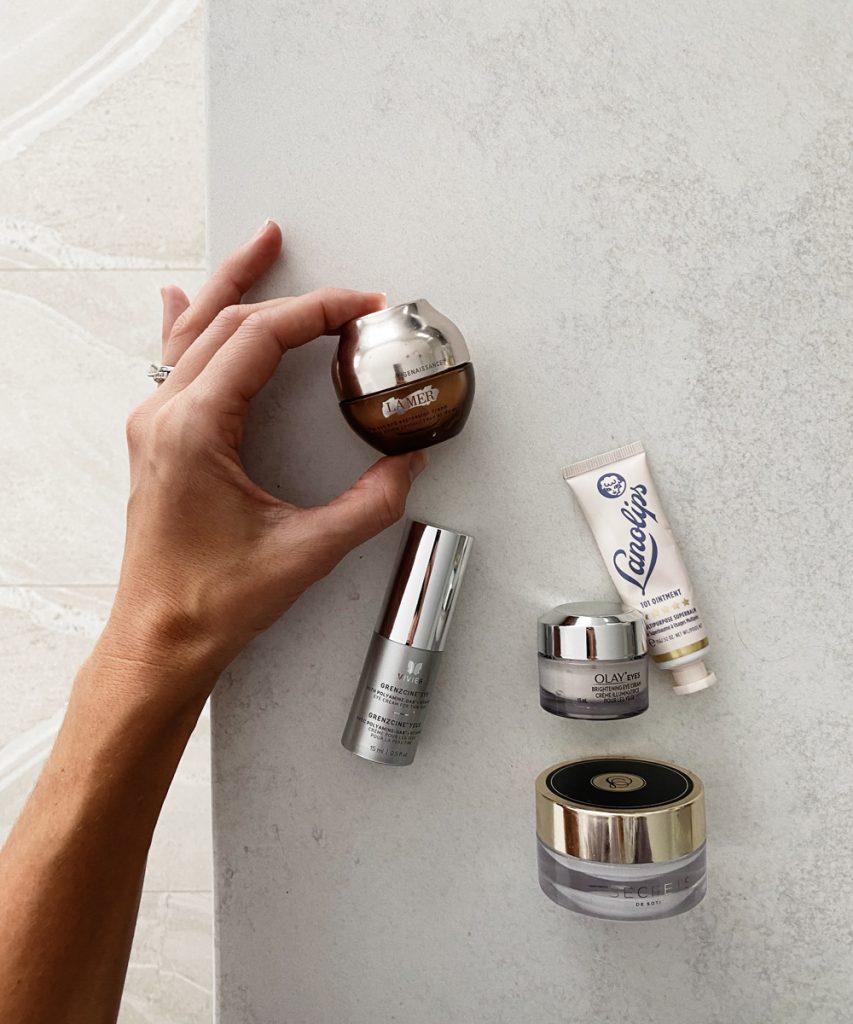 My suggestions:
Olay Eye Illuminating Cream, $31
Sothys Secrets for eyes and lips, $115
Lanolips Multipurpose Superbaume, $23
Vivier Grenzcine Eye Cream, $194
La Mer's Ultimate Eye Cream, $285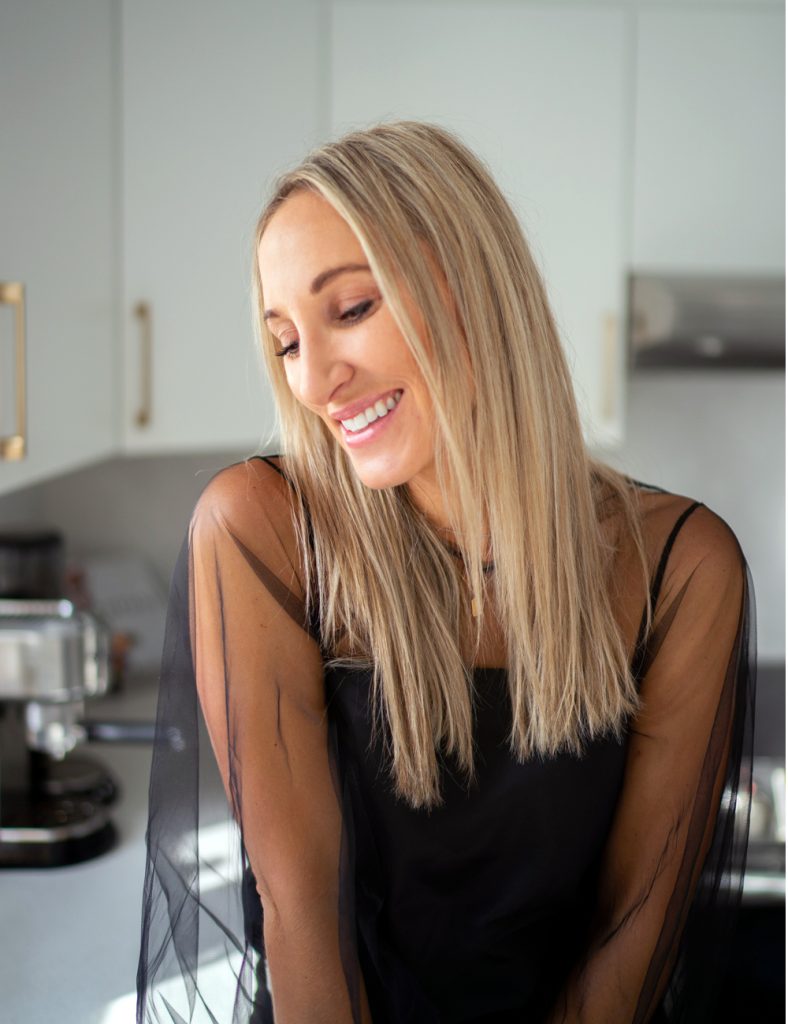 The crème de la crème, at night
If I want to treat myself with an enveloping or very moisturizing treatment, I'll do it at noght. Our skin regenerates at night, so it really works more efficiently than during the day, which is why you have to choose your night treatment wisely! I often allow myself oils, rich creams or masks in order to wake up with a rested complexion in the morning. Otherwise, I also alternate with retinol, which helps to revitalize the skin and work on hyperpigmentation (to be used with caution).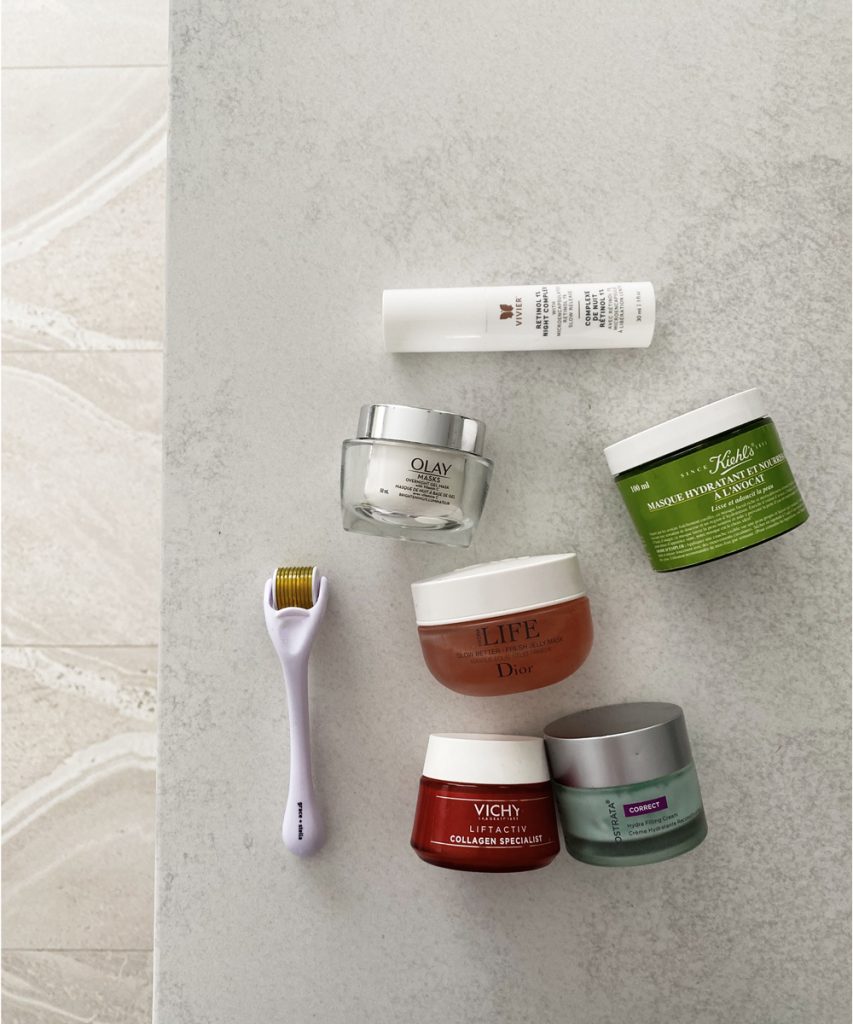 My suggestions:
Retinol Care 1% fromVivier, $114
Dior Glow Mask, $82
Olay Vitamin C Illuminating Mask, $28.99
Kiehls Avocado Moisturizing and Nourishing Mask, $56
Neostrata Reconstructive Moisturizer, $49
Vichy Liftactiv Collagen Specialist, $50
Of course, when I use a treatment, I try as much as possible to do it as a cure, because it is not recommended to change products – and therefore ingredients – every day. I switch every few weeks most of the time.
Do you have any questions about skincare? Don't hesitate to write to me, I'm curious to know what you're using as well!