Since Maximiliano's arrival in our lives, bath time has become both a marathon and a relaxing moment. Over the past few months, I have enjoyed testing, touching, smelling products for his skin and I must admit, I made some discoveries (good and bad!). Frankly, I was ready to write this article several weeks ago, but Maxi had a reaction to some products, and the winter cold also created redness on his fragile cheeks, so I took the time to really test-drive the products I had on hand before publishing this review! So here are my skincare essentials for babies.
Body Skin Care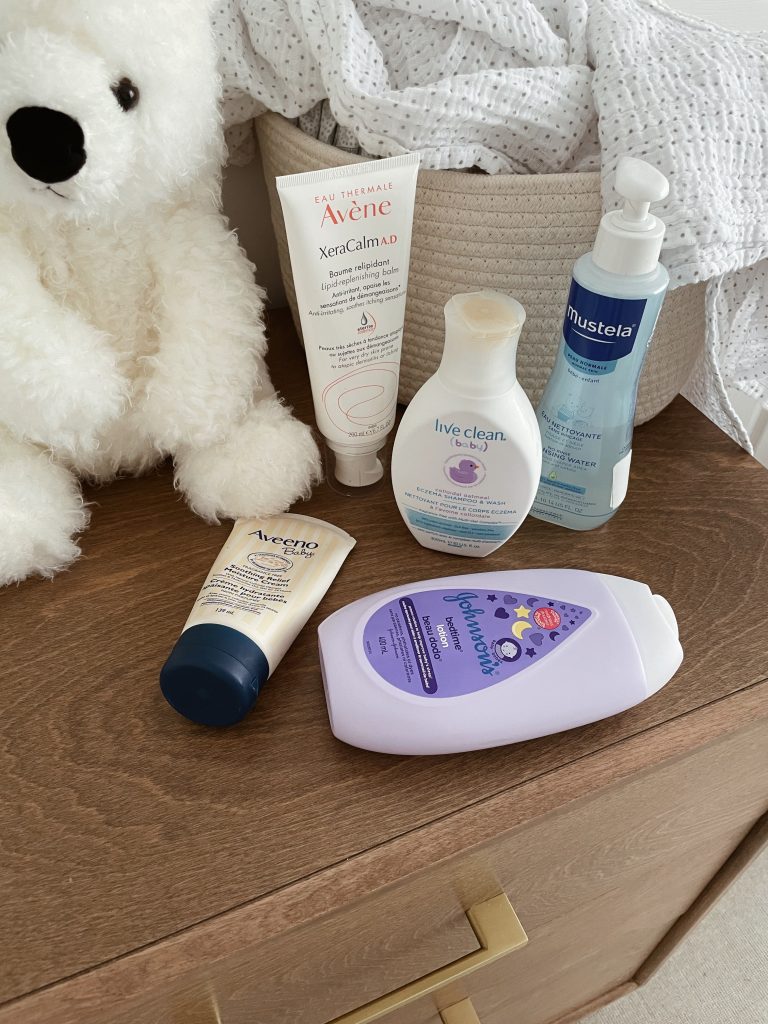 Mustela No Rinse Cleansing Water
A very practical product reminiscent of micellar water. You can apply it on a washcloth to quickly cleanse the skin when water is not enough. It's really a nice discovery and one of the only products that is almost already finished in my baby skincare basket!
Aveeno Daily Moisture Lotion for Babies
This moisturizing lotion saved Maxi's skin when he had redness in his back, such as an episode of eczema earlier this winter. I had to stop everything and use a gentle cleanser (the one mentioned below) as well as this fragrance-free lotion. As a result, the redness was quickly gone!
Live Clean Baby Colloidal Oatmeal Eczema Shampoo & Wash
A gentle odorless cleanser soft enough on baby's skin that made bath time easier! Again, I used this product following an episode of redness on Max's skin and I have been using it ever since. A formula that I highly recommend.
Avène XeraCalm A.D. Lipid-Replenishing Balm
An even more effective product to treat dry skin and eczema patches is this one (which I also apply on his face at times). If your baby has sensitive skin, I really recommend having this product on hand, I used it in combination with Aveeno's lotion and I liked it very much (I keep products in different rooms of the house, namely our bedroom, Max's room and the bathroom).
Jonhson's Bedtime Lotion
This range smells so good! This fragrance will always remind me of Maxi's first months in several years, I just love the smell. Be careful though, as some people have reported having had allergic reactions to these products (scented products can sometimes be poorly tolerated by babies).
Face Skin Care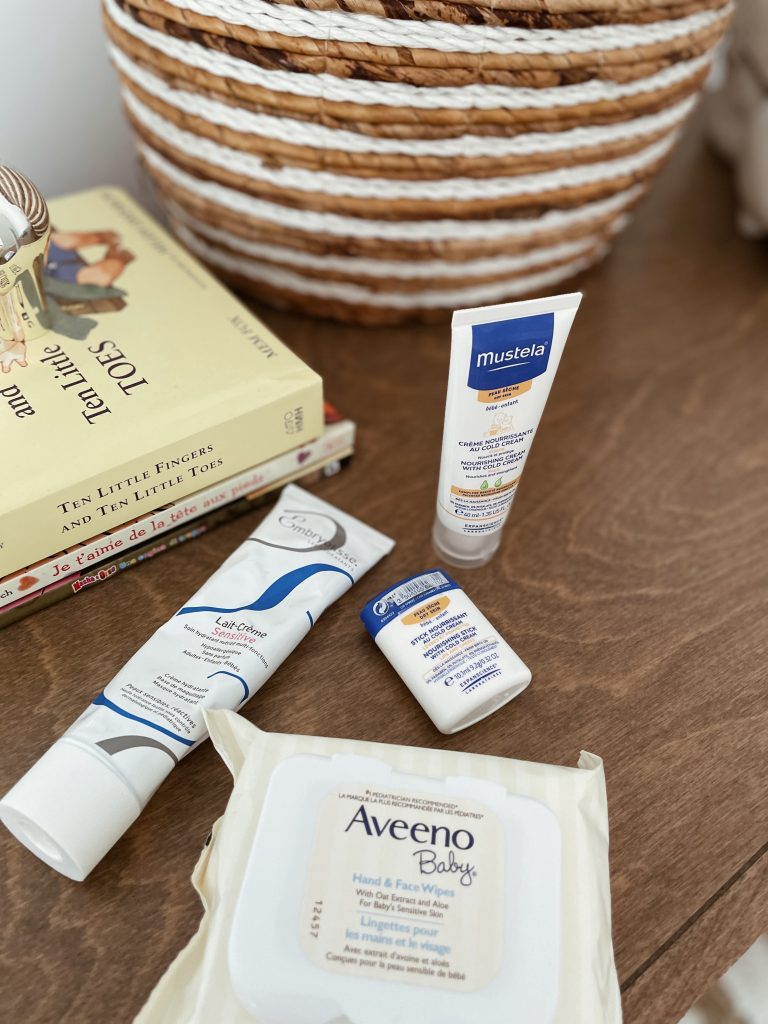 Lait-Crème Sensitive by Embryolisse
A cream that the whole family can use, but that is soft enough for baby's skin: it's definitely worth its place in my skincare favorites! Max's fragile skin reacted very well to this treatment, even his redness under the chin, (since he started teething…) have subsided with this product.
Mustela cold cream nourishing stick
An essential for winter! I've avoided cold outings over the past few months, but when we went outside this winter, I applied this stick to Max's cheeks before and after his exposure to the cold and I clearly saw a difference from the moment we started using it. Really a product to keep close to you at any time!
Aveeno Baby Hand and Face Wipes
A great discovery! These little wipes are super practical to refresh baby's face or even clean his hands or feet after feeding time (yes, his feet …). I keep a pack in my diaper bag, and another near the changing station.
Mustela's sensitive skin cold cream
I tested the version for normal skins and also this one, but it's the version for sensitive skin that I preferred. I use it daily on Max's face and under the chin, alternating with the other product previously mentioned, and it's really a great product, it's very soft for the skin.
Hair Products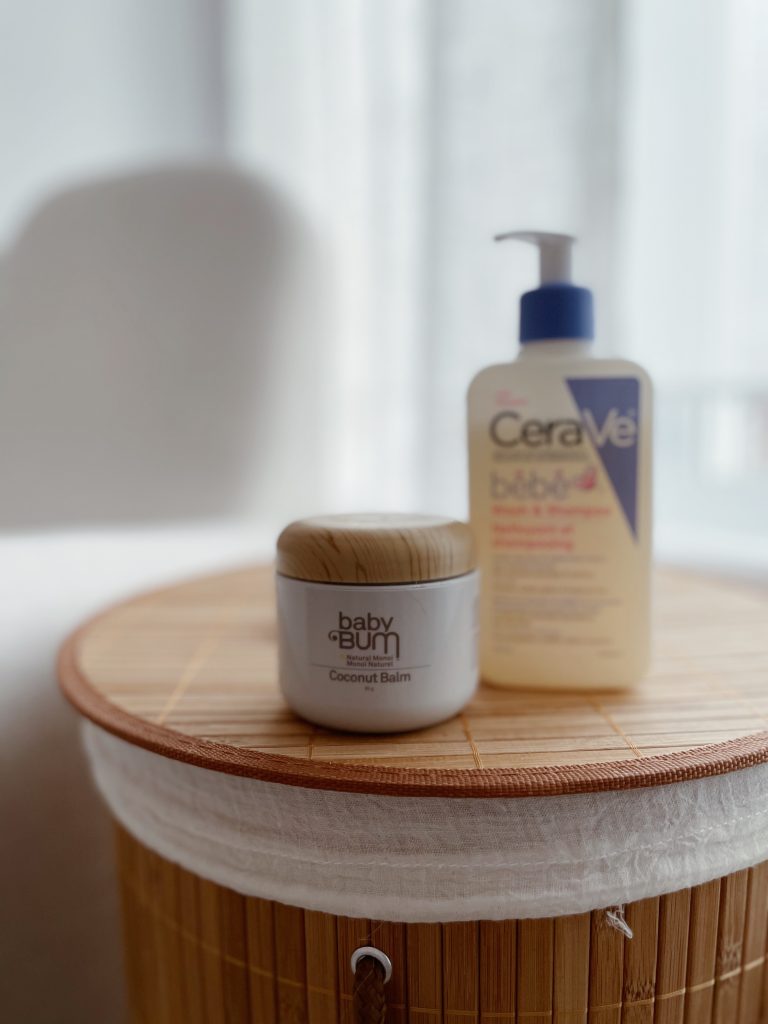 Coconut Balm by Baby Bum
I've talked about this product several times on Instagram because I just love it! It's a Monoi oil balm, especially designed to soothe the redness of the buttocks, but personally, I use it mostly for Maxi's scalp! Indeed, Max had a bit of a milk crust a few weeks ago so I let this oil in his hair before using a small silicone brush to remove the particles on the head, and it worked like a charm! I've done it all again two-three times since then, and really it's such a pure oil that it's great for treating this kind of baby problem.
Cerave Baby Cleanser and Shampoo
I've been testing some baby shampoos since Max's birth and I have to say that several of them have given him greasy hair, but not this one. It is both a body cleanser as well as a shampoo, so a precious product to have on hand!
Klorane Baby Detangling Shampoo
Another shampoo that I like, in addition to being detangling and soft for hair. Personally, I have very fine hair that tangles easily, and I feel that my little boy got the same hair … so I keep this detangling shampoo not too far!
Diaper Rash Creams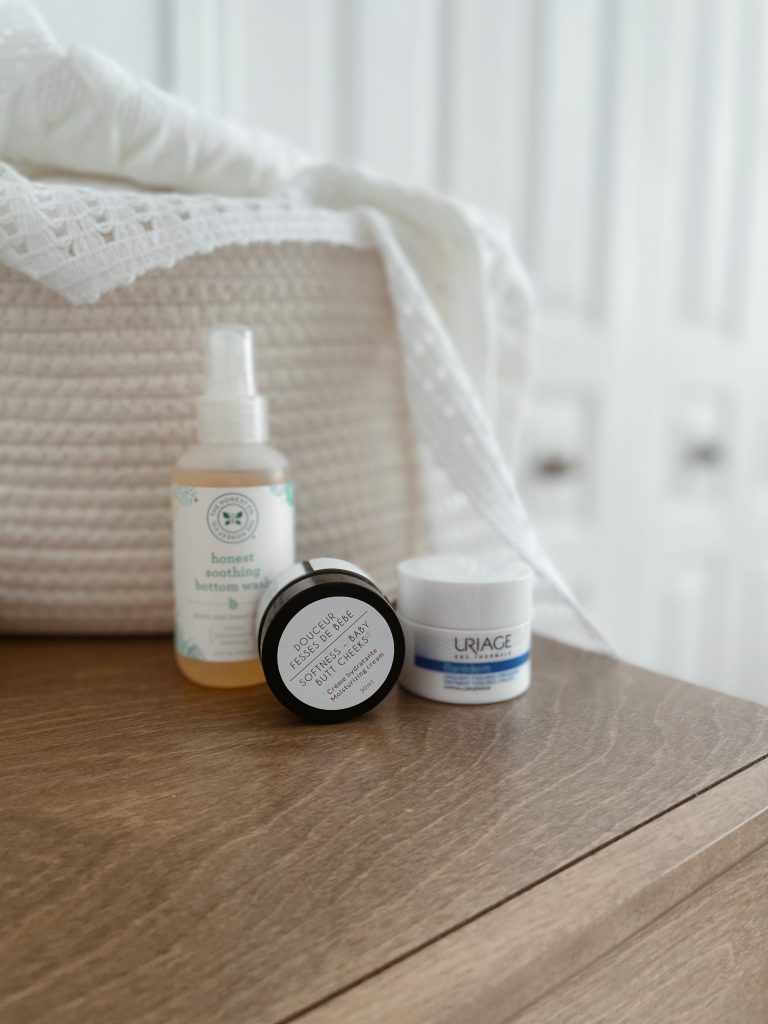 Bariéderm Cica Cream by Uriage
This balm calms the redness caused by mosquito bites, allergic reactions or other, and it is an excellent product to have on hand. I am a big fan of Uriage products, they are excellent for the skin, and many of them are used in adults as well as babies. In short, an essential to have on hand just in case!
Honest Soothing Bottom Wash
This spray product is super convenient for quickly cleaning baby's buttocks. I sometimes apply a little on a wet wipe to refresh Maxi's bum when I change him. Very practical!
Softness Baby Butt Cheeks by Quartet
Finally, if you ask me what I used to treat Max's redness, it's that little product! It is a natural Quebec-based product that was in my 4T box (a postnatal box filled with super convenient products). I swear, it's the only product that worked so quickly. Now, as soon as he has redness, I apply it once and it disappears!
I certainly could have added several other products but I will stop there.
And you, what are your essentials for baby skin?