I was looking forward to writing this article, because when I was pregnant I read a lot of this kind of articles, and it's also probably the first thing I looked for when I learned I was pregnant (confession: even a bit before I was!), that is: the best designer diaper bags. Of course, if I was going to invest in a bag that I would be hanging around for the next few years, it had to be very special, right? After reading a lot on the subject, my choice resulted in the Neverfull tote from Louis Vuitton, an extra wide tote that can hold many, many items. I had also read several recommendations to include an organizer for the interior, and the one from Totesavvy came back a lot in the reviews, so I decided to try it (and I LOVE it!)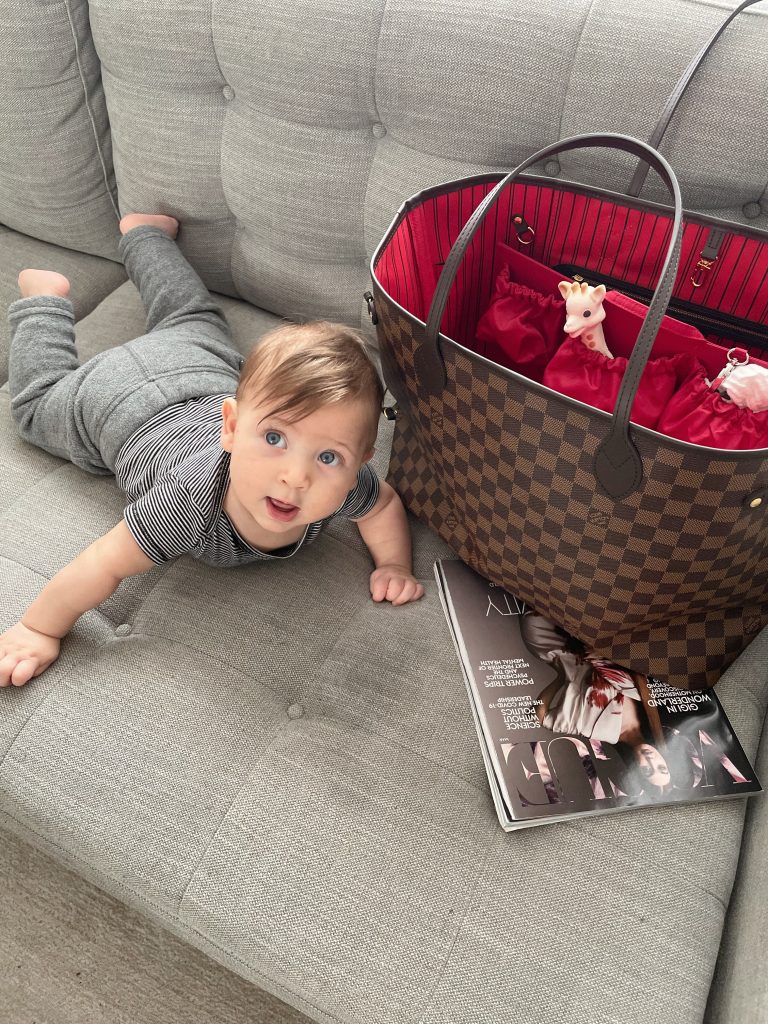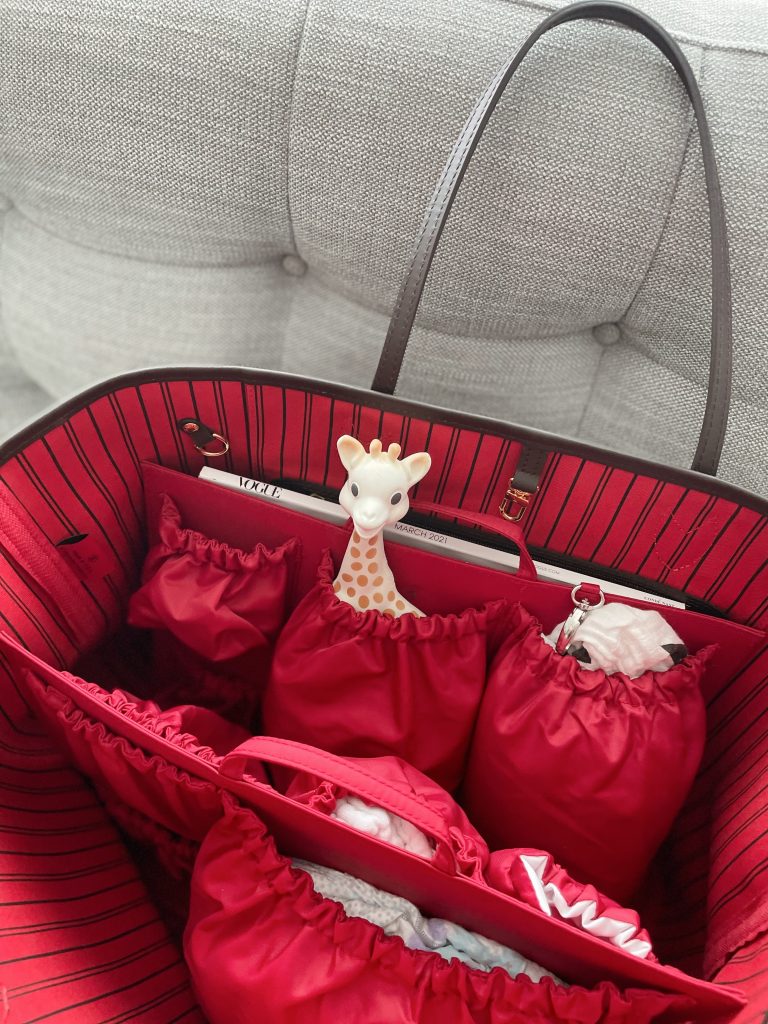 I first used my bag a few times without the organizer inside and I actually realized that this was not the ideal situation. The small items mingled with blankets and diapers and honestly, if you're going to invest in such luxury a bag, it's better to keep it neat. What I find great about Totesavvy organizer is that their colors are designed to be matched with different well-known luxury bags; it's also the same red that is found inside my LV bag, and the other options available all meet several other designer bags. I chose the classic model but there are also larger and smaller formats, however, this one suits me perfectly and the different pockets can contain all the items I need for Maxi. The organizer even comes with a small mat to change baby on the go, which is very practical!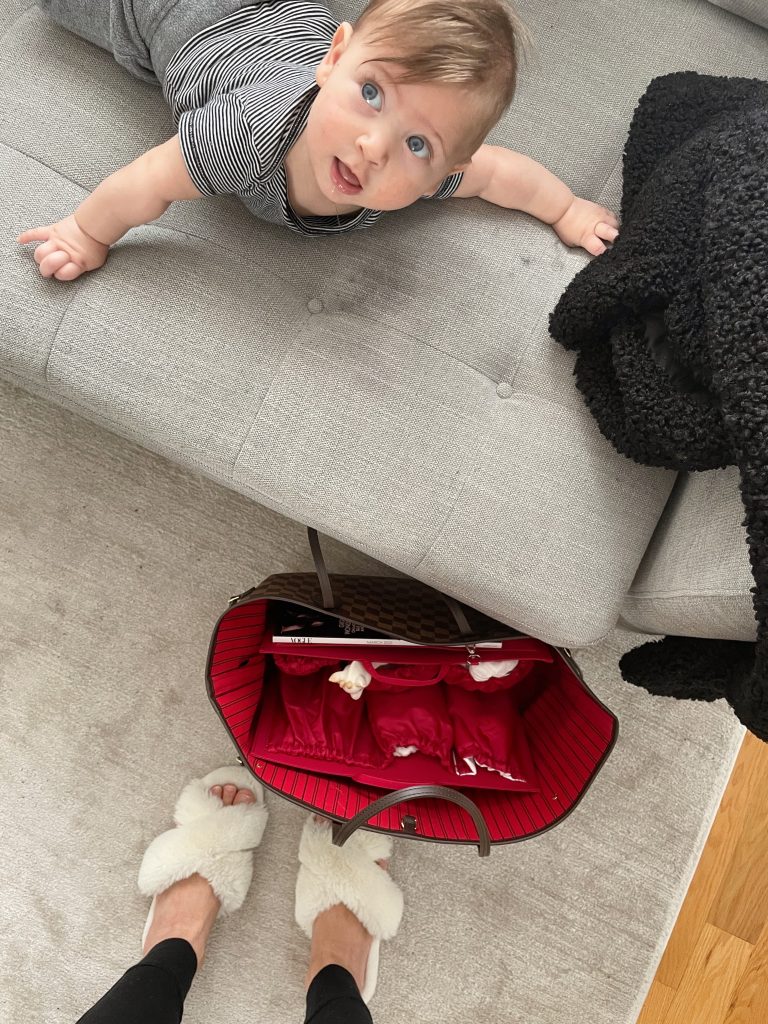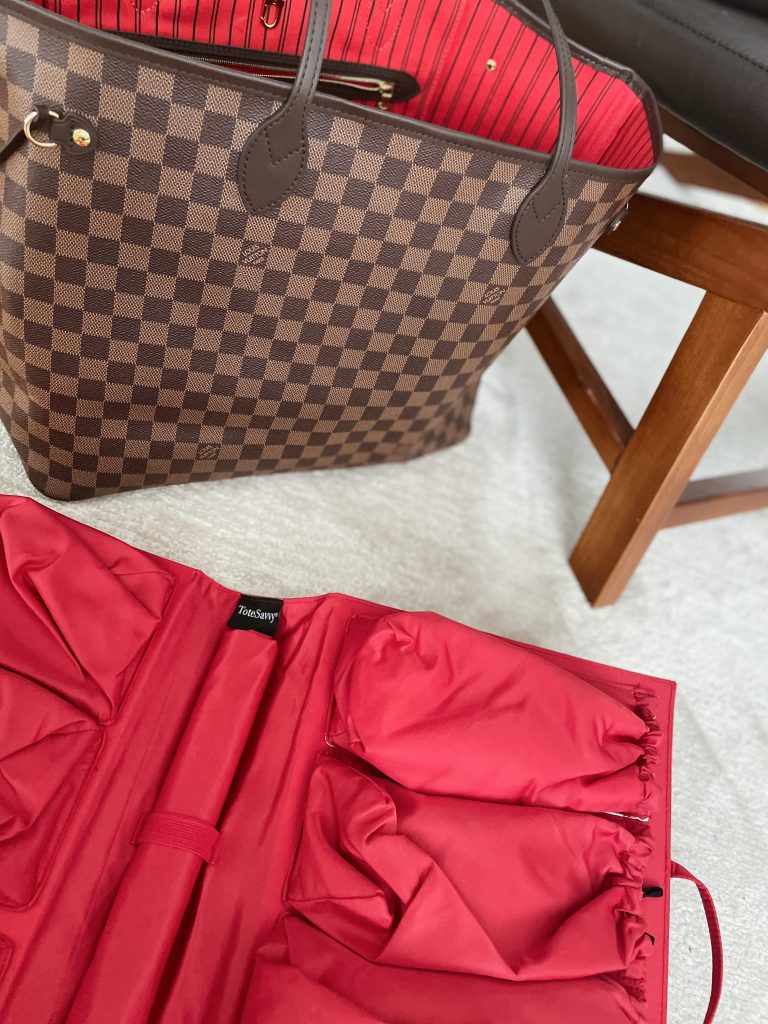 So what's hidden in my diaper bag? I am well aware that this may change as soon as the summer is here, but for now, I am sticking to the following items:
Diapers
Wet wipes
A changing mat (larger and thicker than the one included with my organizer, just in case)
Some pacifiers
Baby skincare: face cream, diaper rash cream, nourishing face stick
One or two blankets
Replacement clothing
Toys (his favorites) including Sophie the giraffe and his kaloo
Some muslins/washcloths
A bottle of hand sanitizer
Plastic bags for used diapers or clothing
A hat (a tuque right now, soon a summer hat)
A scarf to cover myself when I breastfeed
And that's it for now! I will soon have to add snacks, sunscreen and other essentials that I will need this summer. I also hope to have more opportunity to get out of the house soon…
I would be curious to know what you would add, please let me know in comments!