As spring approaches and nature rebuilds itself, we do the same with our makeup bags. Good bye rich and thick winter creams! The past months have undoubtedly left me with dry and sensitive skin, which is why I decided to treat myself a bit more this month — and discovered an array of new products. Here were my recent beauty favourites!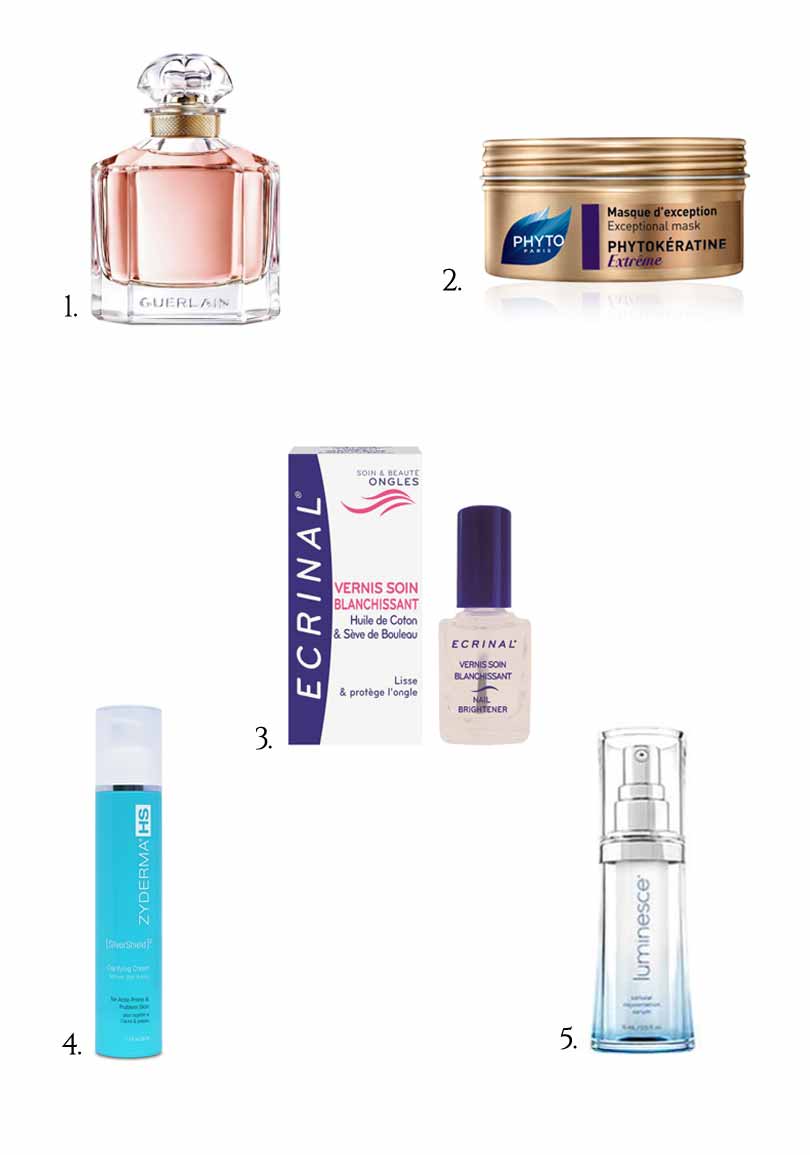 1. Mon Guerlain Perfume
Guerlain's new scent was long-awaited. The brand organized a stunning launch for the product a few weeks ago, showcasing the perfume and its new face — the beautiful Angelina Jolie. Guerlain's last scent, La Petite Robe Noire, was launched 5 years ago in 2012. Mon Guerlain is a very feminine perfume, inspired by its muse. Its hints of lavender, vanilla and sandalwood leave a soft and tasteful aroma on the skin and inspires "strong, free, and sensual femininity", worthy of Jolie.
$78 for 50ml at Sephora.
2. Phyto Phytokératine Extrême Exceptional Mask
It is rare for me to think about using hair masks. The tips of my hair are fragile, and my mane is often dehydrated, so I was well excited to try this new repairing mask by Phyto. Its rich formula literally melts on the scalp, enveloping every single hair fiber, promoting intense nourishment and repair. My hair feels so soft and revived after this treatment. The Phytokeratin collection also has a conditioning cream that will give your hair the va-va-voom it deserves after a few minutes only!
$59 at Sephora
3. Ecrinal whitening polish
My nails looked nice a few weeks ago… before they started breaking one after the other! As someone who rarely gets gel nails or acrylics, I was wondering what I did wrong for my nails to become so fragile and unhealthy. My new discovery had the answers to my questions. Ecrinal is a line of nail polish that works to hydrate and reinforce nails, in order to maintain their growth and prevent them from breaking. The whitening polish even leaves a clean, sheer after-effect. A nail care product that does miracles and that attacks the problem at its root? Hallelujah!
$16.99 in drugstores
4. Zyderma clarifying cream
I love testing new products, especially when they are from brands that I don't know about! Zyderma is a beauty label that uses natural and vegan ingredients, advocating for healthy and naturally glistening skin. I was curious to test out their clarifying cream, which helps the skin protect itself from toxins. The gel-cream texture is pleasant on the skin, and the best part is its scent — none! I have to admit, I have rarely encountered skincare that left my skin absolutely odourless. The cream regularizes the skin's microflora and helps reinforce its protection barrier. What more? It leaves the skin with a healthy glow in a few weeks only.
$59.95 online
5. Jeunesse Global Luminesce serum
A serum that promises radiant skin as well as reducing pores and hyperpigmentation? That's what Luminesce by Jeunesse Global, a brand that I had never heard of before, promises! Although I did not get to test it on a daily basis, it did not stop me from falling in love with the texture and the delicate scent of this light cream, that I used when I woke up and before going to bed. Definitely a brand to try out for lovers of beauty and skincare!
$183.23 online